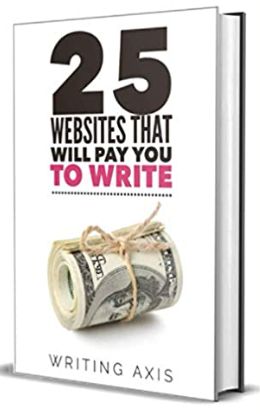 25 Websites that Will Pay You to Write:
The Definitive Must-Read for Writers Looking for Work from Home Jobs with Great Pay
"A great resource for writers who need regular work that pays well."
— HBC Book Reviews

The rise of the gig economy has provided more opportunities for writers to profit while working remotely. Whether you're looking to launch a writing career, supplement your income or increase your earning potential by writing for high-paying, big-name brands, this is the only resource you need.

Includes:

— 25 websites that provide regular work for writers
— Sites that pay up to $800 per article, $70 per hour and $1.75 per word
— In-depth overviews providing insight into each opportunity
— Links to the websites, so you can easily apply to work from home jobs that pay weekly via check, PayPal or direct deposit

Perfect for:

— Established freelancers who want to earn big by writing for large brands
— Full-time writers in search of regular remote work
— People looking to earn extra income, build a portfolio and establish a writing career
— People with writing skills who want to supplement their income with well-paying part-time work at home jobs.
25 Websites that Will Pay You to Write:
The Definitive Must-Read for Writers Looking for Work from Home Jobs with Great Pay